We provide chauffeur driven classic car wedding hire. We are based in Lincolnshire but happy to travel anywhere within England. Our cars can be hired individually or together.
Your Wedding Day is special. That is why there are no times restrictions on the use of the car(s) on the day of your wedding, so you can relax and enjoy the drive between venues and also take advantage of photo opportunities with the car(s). We include complimentary sparkling wine for the Bride & Groom during photos and the car(s) are dressed with ribbon colour(s) of your choice.
Hire rates are generally from £350 for one car and £550 for 2 cars, although prices will vary slightly subject to the specific requirements involved; therefore, for a quotation, please contact us (by email or phone) with details of your journey requirements.
To view the cars, please contact us to arrange an appointment.
Our cars are traditional British Classics, offering a stylish, elegant and comfortable way to travel to your wedding venue.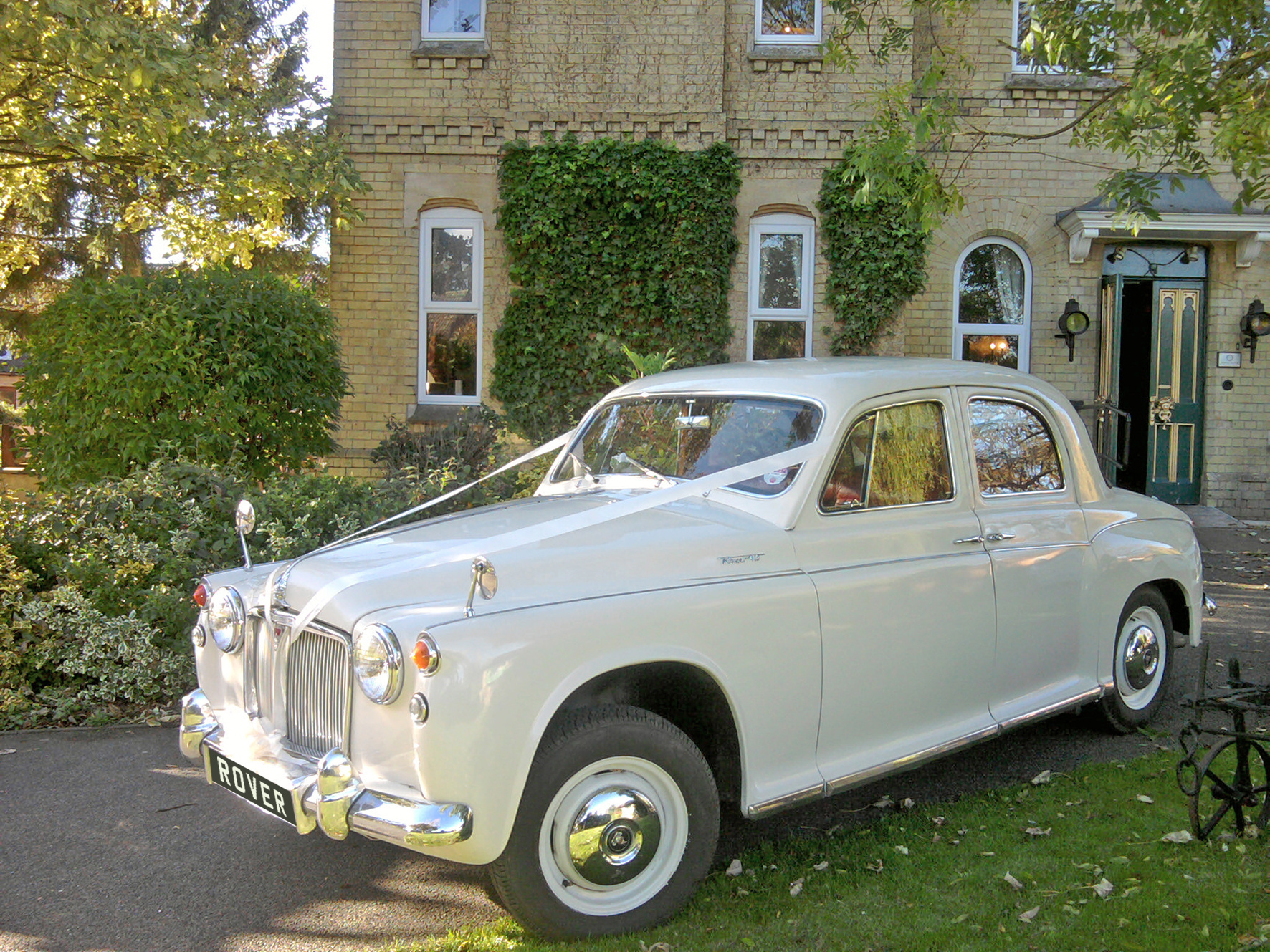 1964 Rover 95 P4
The Rover P4 was first produced in 1949, throughout the 1950's and into the early 1960's, remaining largely unchanged in appearance.
In it's day it was considered the height of luxury, and it offers a styish and comfortable option for today's Bride.
Our P4 is finished in traditional Old English White with burgundy red leather interior.
It is spacious inside and the doors open out widely, allowing plenty of room for even the most elaborate of dresses!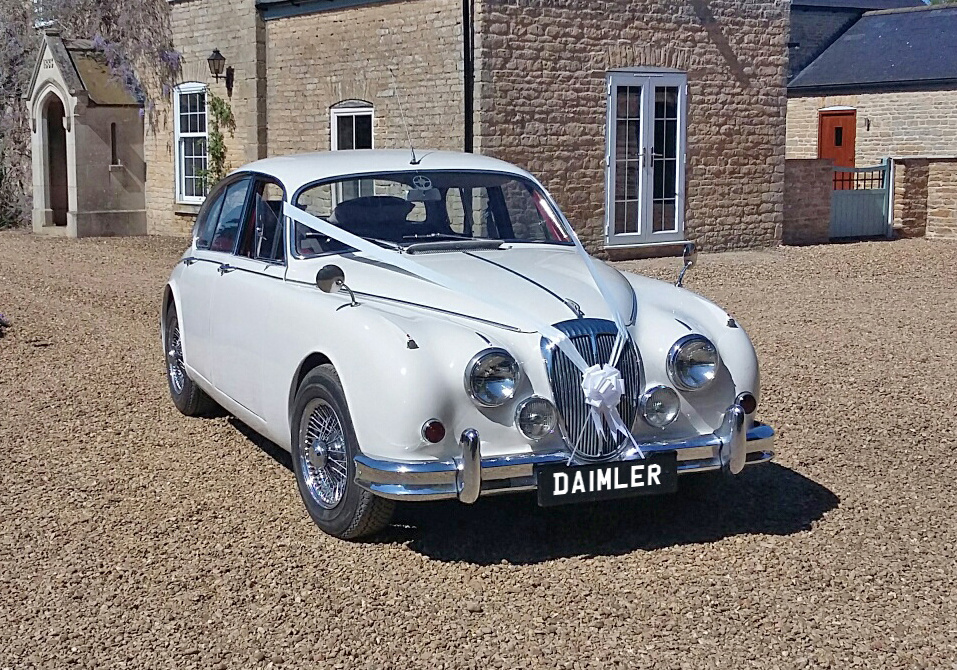 1967 Daimler V8
The Jaguar MkII (made famous on TV by Inspector Morse) is an iconic British Classic and the Daimler badged version of that car is no exception.
The Daimler badge was used by Jaguar for their most prestigious range of cars. So the Daimler V8 displays all the finest qualities of the Jaguar MkII plus added Daimler luxury! Our Daimler is a beautiful example in traditional Old English White with Burgundy red leather interior and chrome double bumper & wire wheels.
A timeless Classic and a real head-turner! ... perfect for the Bride's arrival!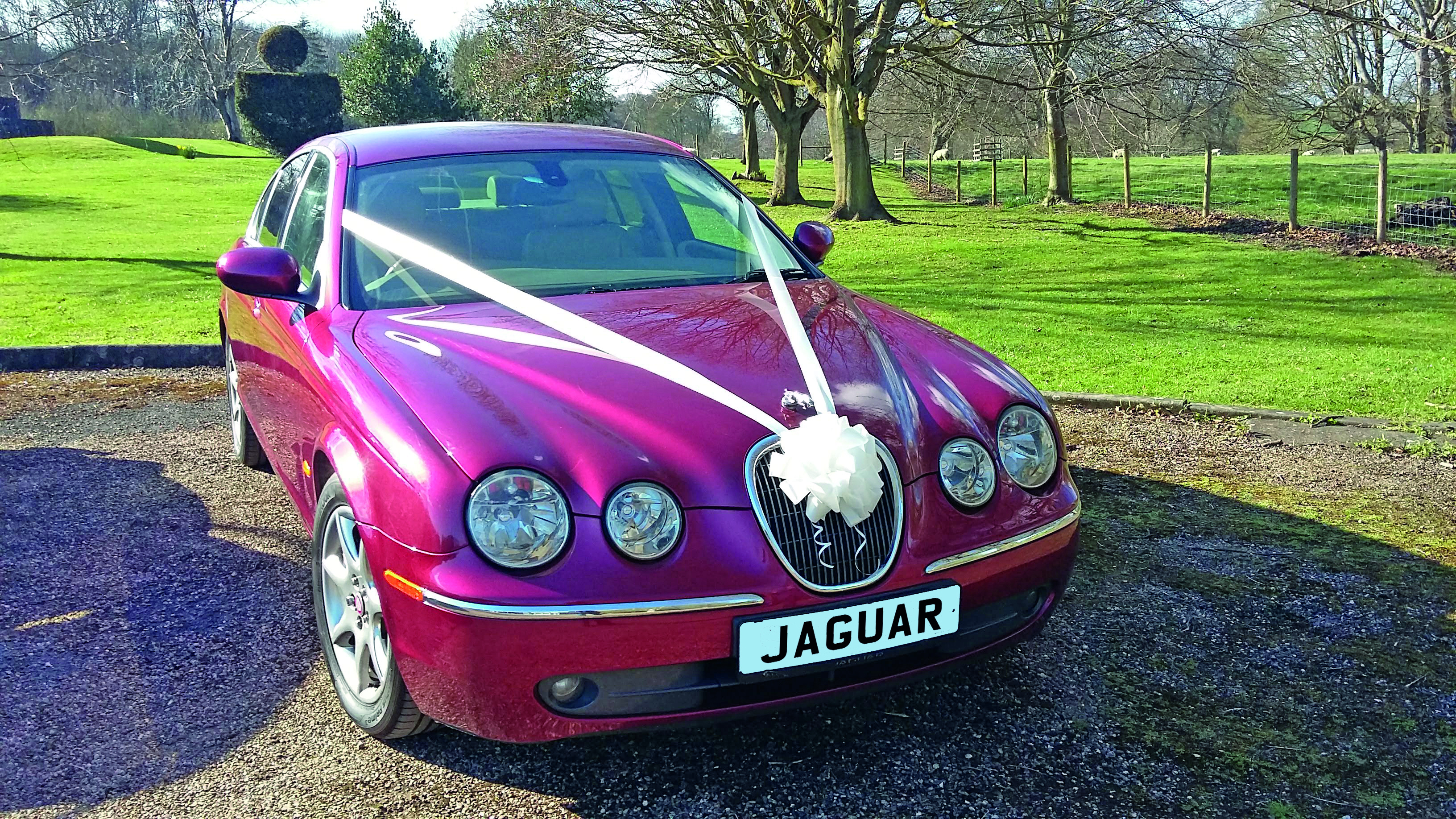 2005 Jaguar S Type
'Grace, Space, Pace' is Jaguar's catchphrase, and the S type lives up to this, as it glides gracefully along the road whilst providing space & comfort inside.
Our Jaguar S Type, finished in Burgundy Red with cream interior, is a lovely example of a 'Modern Classic' Jaguar car.
Combining modern comforts such as air conditioning & seatbelts, yet retaining the classic shape (note how similar the front is to our 1960's Daimler), this modern classic option can be used as a beautiful Bridal car or as an elegant 'second' car (for bridesmaids etc) to accompany either of our 1960's classics.